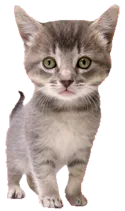 Appointments
Our appointment book is computerized, which allows us to efficiently make appointments for you and your pet. Our receptionists and team will attempt to accommodate all requests to the best of our ability. If you feel you have an emergency with your pet, please call us immediately so that a staff member can advise you on your particular emergency.
---
Emergency & Urgent Care
We have a veterinarian and personnel on duty weekly who are trained and equipped to handle the care of your pet. If you ever feel that your pet needs emergency treatment do not hesitate to call immediately. Our staff will do the best to triage your pets' needs or refer you on to the appropriate surgeon or specialist.
When your pet is in need of emergency care after hours, we want to be sure you know who you can call and where you can go. There are several emergency clinics near our area which are available for after hour, weekend, and holiday care.

Erie Pet Emergency Center
428 West 38th St
Erie, Pa 16508
(814) 866-5920
Open Weeknights Wednesday through Friday 8 pm-8 am
Open Weekends 2 pm Sat-8 am Mon
Open Major Holidays
MedVet-Cleveland West
14000 Keystone Parkway
Brookpark Ohio 44135
(216)362-6000
Open 24 hours
MedVet-Akron
1321 Centerview Circle
Akron, Ohio 44321
(330)665-4996
Open 24 hours
VCA Great Lakes Veterinary Specialists
4760 Richmond Rd.
Warrensville Heights, OH 44128
(216) 831-6789
Open 24 hours
Metropolitan Veterinary Hospital
734 Alpha Dr
Highland Heights, OH 44143
(440) 673-3483
Open 24 hours
Types of Pets Seen

At Conneaut Creek Veterinary Clinic, we can care for many types of pets:
Dogs
Cats
Rabbits*
Pocket Pets*
Small Farm Animals*
*Select veterinarians only. Call us for more information.
---
Discounts
Conneaut Creek Veterinary Clinic offers discounted services to senior citizens and local area rescue groups. Pre-approval is required to qualify for the rescue group discounts, please call us for more information.